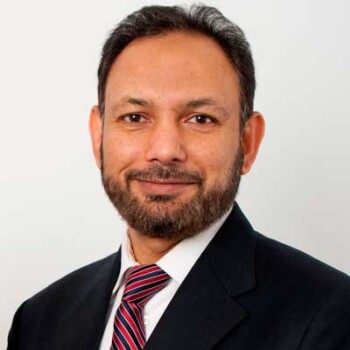 Prof. Mahmood Adil
Clinical Data & Digital Lead
Royal College of Physicians of Edinburgh (UK)
Mahmood has over 25 years of medical, public health, executive management and policy experience and delivered on key senior positions in the UK & USA including; Medical Director (Public Health Scotland), National Quality & Efficiency Advisor (Department of Health, England) & Visiting Faculty (Yale School of Public Health).
He has vast experience of utilising national health data, digital and informatics capabilities to predict, prevent and plan innovative services for overcoming current and future health challenges, across the globe (e.g. UK, USA, Middle East, Turkey, Denmark, Spain).
He is an alumnus of the Harvard Kennedy School, Institute of Healthcare Improvement (USA), and European Hospital & Healthcare Federation. Appointed Honorary Professor of Health Intelligence & Service Effectiveness (University of Glasgow), National Council member (UK Faculty of Clinical Informatics) and Visiting Professor of Value-based Healthcare (Manchester Business School). Achieved higher qualifications in medicine, public health, paediatrics, economics, management and health informatics. Commended with many awards and expert adviser to a number of countries and organisations globally.