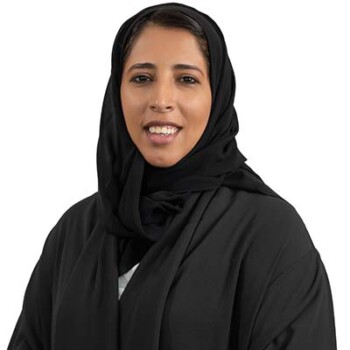 Dr. Hassa Saif Al Mazrouei
Medical Director Patient Experience, Director of Internship Program, Obstetrics & Gynecology Physician
Sheikh Shakbout Medical City, UAE
Dr. Hassa Al Mazrouei is a highly skilled and compassionate Obstetrician and Gynecologist Physician with over 10 years of experience in the medical field. In addition to her clinical work, she has a passion for teaching and education. She was assigned as a director of the internship program at SSMC, where she worked to mentor and guide the next generation of physicians.
As a natural extension of her passion for patient care and education, Dr.Hassa Al Mazrouei was later appointed as the Medical Director of patient experience at SSMC. In this role, she has focused on implementing programs and initiatives to improve the patient experience and promote patient-centered care.
Dr.Hassa's experience in patient experience extends beyond the walls of the healthcare facility. She recognizes the importance of developing a bridge of knowledge and understanding between the community and the healthcare facility As part of her work in patient experience, she has focused on developing outreach programs that educate the community on healthcare topics and promote awareness of available healthcare resources. She has worked closely with community leaders, local organizations, and patients to establish these programs and create a more comprehensive approach to healthcare delivery. By providing patients with the tools and knowledge they need to manage their health, she has empowered them to take an active role in their care and make informed decisions about their health and wellbeing.
Throughout Dr.Hassa Al Mazrouei remains committed to providing the highest level of care to her patients and to ensuring that every patient receives personalized, compassionate care that meets their unique needs and preferences.