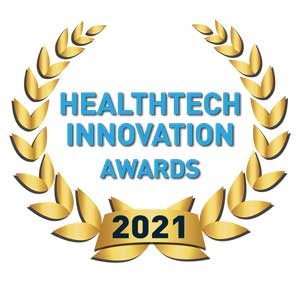 HealthTech Innovation Award
Hosted by BII World
29th September |14:40 hrs. GST
IN-PERSON AWARD CEREMONY AND NETWORKING
(Event will also be Live Telecasted)
HealthTech Innovation Awards have been constituted to recognise and appreciate the efforts of various organizations, associations, and service providers in the field of healthcare services. We seek to honour the pioneers and visionaries who are going the extra mile to transform the healthcare industry and making this world a better place to live in.
Covid pandemic has really shown us the need to upscale our healthcare facilities and infrastructure. Through this award, we aim to honour organisations, that have consistently demonstrated exemplary performance.
We admire the great brains who are coming – up with breakthrough technologies in every aspect of healthcare to provide better and enhanced patient care. Technologies from Star-ups have ground-breaking research needs grab the centre stage.
HealthTech Innovation Awards aims to serve as an effective platform for healthcare industry to showcase their talent and identify leaders within the industry.
Our inaugural Award Ceremony will set a benchmark, inspiring other organisations, Start- ups to attain their own goals!
NOMINATIONS ARE NOW OPEN!
Nominate your choice for 1 or ALL Award Categories to assist their victory.
Nominations and Voting will close on the 3rd of September 2021.
Submit Your Award Nomination

Nominate your vote for below Award Categories:
For Hospitals
Best Hospital of the Year – Best Hospital in Virtual Care Excellence Award
Best Hospital of the Year – Best Green Hospital
Best Hospital of the Year – Best Hospital in Tech Adoption
Best Multi- Speciality Hospital of the Year
Excellence for Health Services during Crisis Awards
Best Innovation in Quality and Safety Delivery
Best Use of Technology in Speciality   – Oncology and Haematology
Best Use of Technology in Speciality   – Obesity
Best Use of Technology in Speciality – Obstetrics and Gynaecology
Best Use of Technology in Speciality – Paediatrics and Neo Natal Care
Patient Experience Excellence Awards
Fastest Growing Hospital Chain
For Technology
Best Virtual Care App of the Year
Best mHealth App of the Year
Best Healthcare Insurance Innovation Awards
Best Hospital Technology Implementation
Best Health Network Technology Implementation
Best Platform on Patient registration & scheduling Solution
Best Health Informatic Platform
Innovation in Healthcare Wearables Award
Best Patient Engagement Innovation Award
Best Electronic Health Record Services
Best IoT Healthcare Platform
Best Data Security Solution Award
Best Use of Artificial Intelligence in Healthcare / AI Innovation Award
Best Connected Health Platform
Best Healthcare Big Data Platform
Best Remote Patient Monitoring (RPM)
Best Overall Telemedicine Platform of the Year
Best widely accepted Product of the year
Best Innovative Healthcare Start-Up of the Year
Best Product Research – Start- up Award.
Best Middle East HealthTech Innovation Award
JURY PANEL
The judging process is also a streamlined one. All award nominations are fully analyzed, evaluated and scored by our expert panel of judges, representing a mix of non-profit organizations, associations, academic institutes, and analytical expertise within the healthtech sector.
SOME OF THE EMINENET NAMES IN OUR JURY PANEL INCLUDE:
* Some members of the Jury have chosen to remain anonymous.