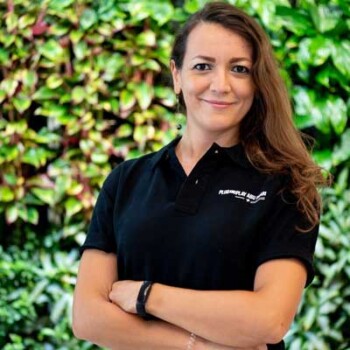 Dr. Louiza Chitour
Program Manager, HealthTech
Plug and Play Abu Dhabi
Dr. Louiza (Pharm D, MBA, Ph.D.) has 12+ years of experience in Healthcare, Pharma, Biotech, and Digital Health across emerging markets(China, GCC, MEA).
Over the last 6.5 years in the Middle East, she was responsible for assisting health government institutions and private players in the biotech/pharma sector to strengthen their vaccine manufacturing capabilities across the META region and Pakistan.
She is also the co-founder of a Digital Health venture "Magikcraft" which develops health education videogames for Type 1 Diabetes and other diseases (Cystic fibrosis, Type 2 Diabetes) for which she won the "Leadership Award" at the LEEM Hackathon held in France in July 2019.
She spent over 8 years in China to deepen her expertise in health innovation and acquired an MBA & Ph.D. focused on the role of technology in increasing healthcare access in low and middle-income countries, in addition, she had the opportunity to support various F500 FMCG & Pharmaceutical companies enter the Chinese market & attract the right talent through her tenure at Atomic Recruitment who since 2015 expanded in 7 cities across China.
She is currently the head of the MENA Health Tech Program at Plug in the Middle East working in partnership with several key stakeholders across the healthcare value chain to establish and nurture a sustainable digital health ecosystem in the Middle East.
Her role is to understand the specific innovation needs of healthcare providers, payers, regulators, and private Pharma/Biotech/Medical devices corporates in the region, identify potential bottlenecks in their digital transformation journey and finally support them in implementing relevant technology solutions from cutting-edge international startups.
Furthermore, she supports the emerging digital health ventures from the region through Plug and Play venture capital arm & invests in promising technology solutions at pre-seed & seed stages. She is also an active angel investor with more than 5 digital health startups in her portfolio.
Finally, as a FoundHER ambassador for the region & founder of a female empowerment non-profit organization (Wovid Diaries), she strives to provide the necessary support & mentorship to female founders from the region & works with key stakeholders in the field to raise awareness on the gaps that exist in female startup funding & how to address them. 
Areas of interest: Innovation, Tech, Digital Health, Pharma, BioTech, R&D, VC investment, Angel investment, mentorship, education, Gender equality, female empowerment, emerging markets.