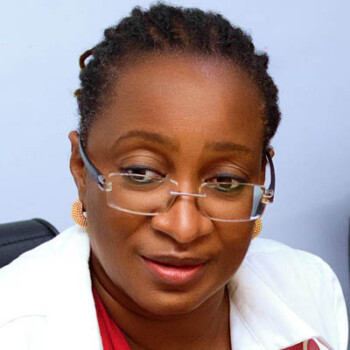 Ngozi (Ogeah) Onyia
Managing Director and Founder
Paelon Memorial Hospital
Dr Ngozi Onyia is a 1982 Graduate of the College of Medicine, University of Ibadan, and a Fellow of the West African College of Physicians in Paediatrics. Her other qualifications include an Executive MBA from the Lagos Business School and a Certificate in Travel Health from the International Society of Travel Health.
Over the last 38 years she has worked both in the public and private sectors, most notably as the Medical Adviser of Nigerian Breweries from 2000- 2010 and more recently as Founder and Managing Director of Paelon Memorial Hospital (PMH) since 2010.
Dr Onyia is a trustee of many organizations including the Society for Quality Health in Nigeria, Nigerian Society for Travel Health, Pharmaccess Nigeria and the Boys to Men Foundation, and a member of several other professional bodies including the Paediatric Association of Nigeria.
She is a past Principal Officer of the West African College of Physicians (Honorary College Treasurer 2004-2006), a past President of the EMBA11 alumni association and the First President of the Queen's College Old Girls Association set of 1971-75/77
Dr Onyia is a mother of two adult children and a grandmother. Her 3rd and last child, Patricia, was born to her with a rare congenital condition, the CHARGE syndrome. Patricia sadly passed on at the age of nine, 17 years ago from a complication of one of the five surgeries she had in her nine short years of life. Paelon Memorial Hospital was established in her memory in March 2010.
Paelon Memorial Hospital currently has two branches. The first and flagship of the group is a multispecialty, boutique hospital located in the highbrow Victoria Island area of Lagos.
Living by its business principles, PMH has a stated vision of 'Redefining Healthcare in Nigeria' and delivering on its value proposition of high reliability. 'Getting it right the first time, every time.'
The second branch, a day clinic, was opened in March 2017, on 9, Ajao Road, Ikeja, guided by the same business principles and offering the same quality healthcare to our patients on the Mainland.
Following the outbreak of Covid in Nigeria, this branch was repurposed in June 2020 as a Covid treatment centre and since then Paelon has been in the forefront of the private sector fight against Covid-19.