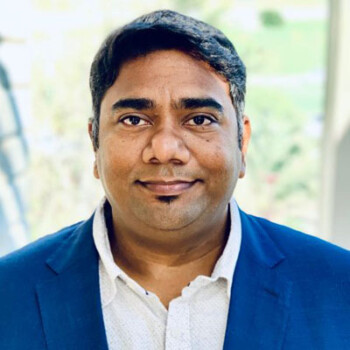 Sudesh Sivarasu
Associate Professor in Biomedical Engineering
University of Cape Town
Dr. Sudesh Sivarasu is an associate professor of biomedical engineering from the Department of Human Biology, UCT. He also holds an adjunct appointment at the North-western University, Chicago, USA, as an international lecturer in Global Health and Technology.  Dr. Sudesh Sivarasu is a qualified electronics and instrumentation engineer, with a master's and PhD in Biomedical Engineering from VIT University, India. 
Dr. Sivarasu's research focuses on developing appropriate health technologies with a special focus on their suitability and translation towards low resourced settings. He has supervised 39 students to completion (including 5PhD's, 28 MSc's & 6 Hon's students).  He is currently supervising 18 students (which include 6 PhDs and 12 MSc students). Dr. Sivarasu has published widely in the field of medical devices and orthopaedic biomechanics. He has over 46 peer-reviewed journal publications and 50 peer-reviewed conference publications.  
Dr. Sivarasu is currently listed as UCT's prolific inventor with the second most active inventions portfolio across the University.  He holds over 51 patent applications across 19 patent families of which over 12 patents have been granted across, USA, UK, South Africa and India. He also holds 3 open-source innovations to this credit. His innovations have led to 3 start-up companies from UCT namely reScribe Therapy, Impulse Biomedical and VAS MedTech. These companies were started by student innovators trained at the UCT's MDL & OBL. 
Dr. Sudesh Sivarasu conceptualised the multi-award-winning FrugalBiodesign™, a unique medical device innovation methodology. He founded the Medical Devices Lab and co-founded the Orthopaedic Biomechanics Lab. This multi-award winning lab has produced several medical technologies such as reScribe, Laxmeter, PatRig, OpenSource Ptosis Crutches, Zibipen, Easysqueezy and the FlexiGyn platform. He also headed the COVID-19 Medical Devices Task Team which was involved in numerous innovations including the UCT ViZAR, UBUNTUBooth, UCT Hearo, FHS ChatBots, and contributed to the clinician validation of CSIR-LIFE Ventilator device: over 18,000 of these ventilators have been made and implemented across South Africa. 
Dr. Sivarasu is the recipient of UCT Deputy Vice-Chancellor's award for achievement in Innovation, DST's Innovation Bridge Award and NSTF-South 32, TW Khambule award for Emerging Researcher in addition to other 16 MedTech awards across 4 continents. He is an elected member of the Global Young Academy (GYA) and the South African Young Academy of Science (SAYAS).